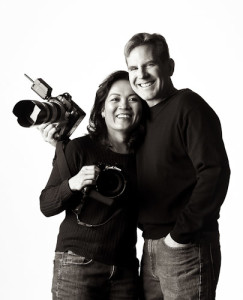 Hi, this is Eric – I picked up a camera before I could even drive and have been photographing people and places ever since. I grew up in Boulder and Milwaukee (actually Brookfield if you know the area), and lived and studied abroad in Oaxaca, Mexico. I returned to Boulder to ski and earn my bachelors degree at CU, taught Spanish at the University of Wisconsin -Madison, and eventually launched my career as a professional photographer in New York City. One of my most memorable adventures was riding a bicycle through Europe for four months and photographing what I encountered.
Hi, I'm Moni. I grew up in the Denver metro area, but I am originally from Cambodia. Eric and I married in 2005, and soon after that I began working in our photography business. When I'm not behind the camera or designing albums at the computer I love cooking exotic dishes from around the world (fortunately we both love spicy food!) and spending time with our nieces and nephew. Between the two of us, Eric and I speak four or five languages, but English is the only one we have in common!
These days we specialize primarily in weddings and portraits of children, families and high school seniors. We also photograph quite a few mitzvahs and other events. We hope you enjoy seeing the photos we post and reading about our adventures!